Leading the country.
We're leading the country in economic development. But don't just take our word for it. Check out our most recent news and events.
.@JardenZinc is expanding in Greene County, creating 30 new jobs in Greeneville over the next 5 years.… https://t.co/cClWdzAMPo
RT @BillHaslam: Thank you to U.S. Ambassador to Japan Bill Hagerty for hosting a reception for Tennessee and over 100 Japanese companies. G…
Governor's Conference is right around the corner & we came up with a list of tips to help maximize your experience… https://t.co/v2zKnX4Hec
ICYMI, DENSO announced last week it would expand its operations in Maryville, creating 1,000 new jobs and investing… https://t.co/q4hdilKD3E
RT @BillHaslam: At DENSO in Nagoya, Japan today. Thanked them for investing $1 billion & another 1,000 jobs in TN. DENSO will now employ 6,…
RT @CommishTNECD: A record low jobless rate. Thousands of new jobs in our pipeline. I look back on TN's success of past few months https:…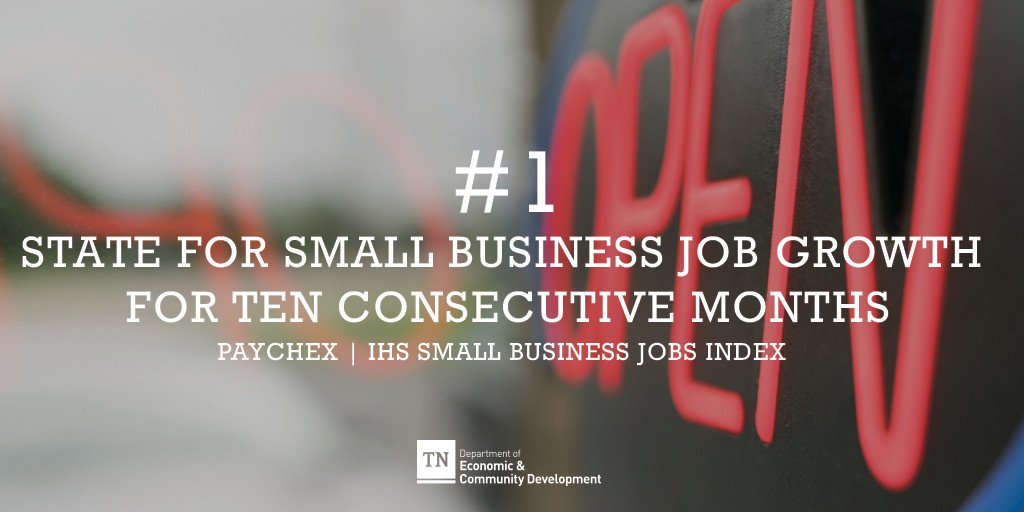 View Image
Thank you to our Tennessee small businesses for helping our state rank No. 1 for 10 straight months. https://t.co/ph5OE0P7Kk
We're proud to announce the six new counties selected to participate in TNECD's Property Evaluation Program… https://t.co/994tFx1ZKY
RT @BillHaslam: A great day for TN: DENSO is bringing 1,000 new jobs to Blount Co. & investing $1 billion in its Maryville facility. https:…
RT @decodethefirm: Japanese auto supplier Denso to invest $1 billion in Tennessee manufacturing operations https://t.co/oAXShxnDvG via…
View More
Make It Tennessee
When you bring your business here, you'll be in the company of icons, innovators and legends in the making.